17 Oct

Rio Digital Agency – Online Reputation Management

With the advent of mobile devices, internet became portable, one could shop on their way back home, one could complete a pending email on the go, and one doesn't have to sit in front of a computer to use the internet anymore. The explosion of smart devices has made 'internet' one of the most widely used communication channels available today. People use Whatsapp more than phone calls, and google the tiniest bit of information. This may range from checking a restaurant's rating, to booking a cab, to online shopping, to applying for a job. It's safe to say people depend on the internet for information, they trust Google Search Results, and they have the means to validate correct information by cross-referencing. This also means that people will search your business online to ensure its credibility and validity. This trend has given rise to a new entity called 'Online Reputation'.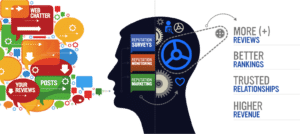 If you have an account on Facebook, or one on Linkedin, or even if you've subscribed to a weekly newsletter for a local site, you have left a digital imprint of yourself over the internet. These digital imprints become linked to your online presence. Go on, search your own name on Google, and you'll find most of the places you've logged into, or have left a digital imprint. The results found become your online reputation, and will enable people to decide whether they wish to initiate business with you, or choose your competitor, making your online presence one of the key factors in growing your business. You certainly do not wish one mistake you've made years ago, to ruin your future, do you? There may be a few instances on the internet that are not relevant, however your customers may decide in less than a minute and choose your competitor's business instead, making it imperative to pay close attention to your online reputation, promote the positive ones and discredit the negative comments.
Rio Digital Agency has helped countless clients in getting their online reputation up and running. We scrutinize the current status of our client's business with the help of keywords. We then analyze and device a plan to improve the Online Reputation by adding credible positive reviews in a wide consortium or relevant channels, and extract the negative imprints to seep further below on the results page. Online Reputation Management includes a bit of Search engine optimization as well, boosting positive reviews to rise above the negative remarks. Your business has its pros and cons, we garnish your pros to your customers helping them make a more informed decision, while you learn about the cons and work on the negative remarks and improve in those areas as well.
With Rio Digital Agency, rest assured you're in safe hands, we'll ensure that your online presence starts blooming in no time. Our strategy has been creatively designed by an experienced team, and has proven very effective for our past clients. We vouch for a minimum 50% growth rate in your business with the help of our business solutions. We hope to get a chance to work with you and help you take your reputation and business to dazzling heights.