07 May

SEO Trends for 2020: Get on Top of Google Search
In SEO, If you Snooze, you Fail!
With voice search, virtual reality & Augmented Reality stepping into the Digital Marketing landscape, it's vital to take charge before things become overwhelming. Therefore, it's essential to grab a follow up to the new trends and create a powerful SEO strategy 2020 to shine out in the changing SEO landscape. Artificial Intelligence technologies change the way we interact with content online, there might be a massive change in how we work as search engine Optimizers.
SEO Trends That will Matter Most in 2020
SEO is constantly changing. In SEO, if you snooze, you Fail!
So what can you do to keep the game up?
Analyze, revise, change and adapt to new SEO trends that are dominating in 2020
Artificial intelligence will continue to evolve
Over the past half-decade, AI has become a pioneering force in the evolution of SEO.
In 2015, for instance, we were introduced to RankBrain — the machine-based search algorithm that helps Google push more relevant results to users. Although RankBrain is coming up on its fifth birthday, we are only now catching early glimpses into how AI will dominate SEO in the coming years.
The most recent step during this progression of artificial learning is, of course, the introduction of Bidirectional Transformers for Language Understanding (BERT), which Google announced at the end of October. For those who missed it, BERT is Google's neural network-based technique for natural language processing, and it's important because it deals with the very fundamentals of how people search. Google itself says that the algorithm represents "the biggest leap forward in the past five years, and one of the biggest leaps forward in the history of Search."
Affecting one in ten searches, BERT gives Google a far better understanding of how language is used and helps it comprehend the context of individual words within searches. The important thing to understand about BERT (and also RankBrain), is the fact that you can't optimize for it.
Voice search is here to stay
In the world of search, Voice is a very dominant trend and thus, we as SEO experts should keep an eye on it in 2020.
Let's have a glance at a few Voice SEO Search statistics:
58% of the consumers used voice search to find local business information during last year
27% visit the local business website through voice search
76% of smart home speaker users search for local businesses once a week. 53% of the users make daily voice searches
The voice recognition market will hit $601 million by 2020
Voice searches may well become one of the foremost used search methods.
Brands need to optimize correctly for Voice. If they don't, they will be buried by those who do.
Ranking Search Results Based on Entity Metrics
Entities aren't something that you simply hear SEOs talking about every day, but they're something Google is putting a lot of resources into. Google itself states that entities are "a thing or concept that is singular, unique, well-defined, and distinguishable."
The most important aspect you'll need to consider is how Google understands the entities on your website.
For example, if your site sells shoes, you need to believe how many different types, colors, sizes, brands, and concepts exist for your shoes. Each shoe will represent a special entity, which means you must consider how to frame each product so that it meets the expectations of users as well as the learning capabilities of Google.
The knowledge panel will be vital for personalities & brands
Although Google's Knowledge Graph was launched way back in 2012, its expansion since then means it's still a core a part of the search matrix and one which will reach far into the next decade.
Closely tied with featured snippets and rich results, earlier last year Google began allowing entities to claim their own knowledge panel, giving them access to edit and control the data presented to users in search results. They can make particular requests, such as changing the featured image, panel title and social profiles provided within the panel.
The benefits of claiming your knowledge panel are many. They assist users gain quick access to your site, which thanks to the Knowledge Graph, displays trust and authority signals. Knowledge panels also provide brands and personalities with the ability to control what objective data is shown to users. Yet, there are still many brands that have yet to claim their own panels.
You can claim your business's knowledge panel in a few simple steps:
Make sure that your website is verified with Search Console.
Update your panel by suggesting a change to Google.
Knowledge Graph can improve trust and add authenticity to your business or personal brand, also as providing additional visibility. But it's easier said than done.
Unless you are a recognized, superstar or brand, claiming space in the Knowledge Graph is going to be difficult.
Queryless proactive predictive search is getting better
Google Discover was released in June of 2017, prompting a new kind of search altogether — one that's queryless.
To appear in Discover, Google states that pages appear "if they're indexed by Google and meet Google News content policies. No extraordinary tags or structured data are required." It ranks content based on an algorithm that examines the quality of content alongside the interests of the user and the topic of the page in question.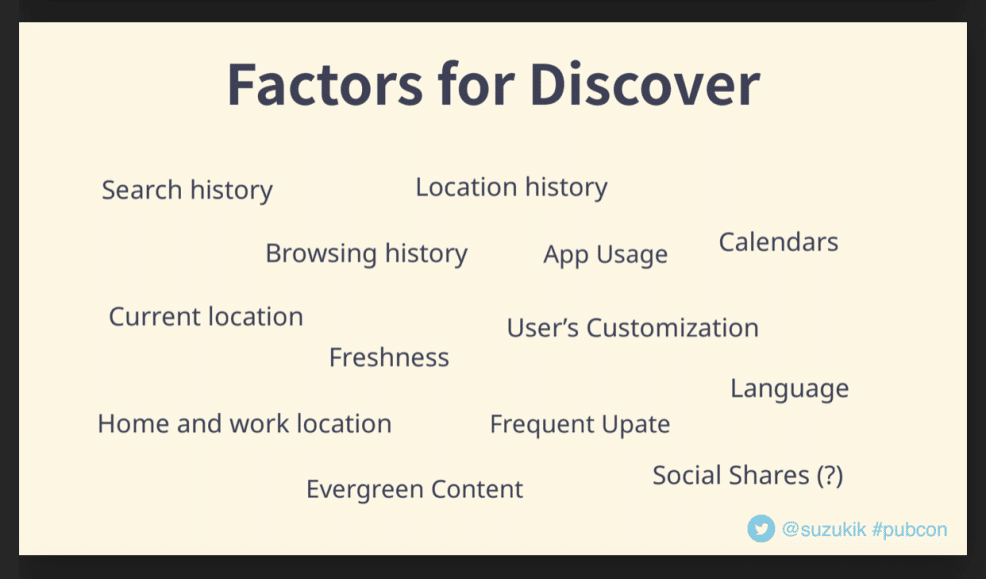 This screenshot by Kenichi Suzuki highlights some of the factors that help pages appear in Discover.
According to Google, there are two ways to spice up the performance of your content within Discover:
Post interesting content
Use high-quality images
You can use Google Search Console to see how well your articles are performing in Discover.
We have yet to see the major changes in visual image Search
It could be argued that the most important change to image search happened in September 2018 when Google Lens rolled out. Not only did featured videos begin to show up in image search but AMP stories and new ranking algorithms and tags were also released.
Google has always said that images should be properly optimized and marked, so if you have not begun to add such data or information to your images, now's definitely the time to start out .
In the past six months alone we've seen Google introduce small changes such as removing the "view image" function, also as colossal changes, such as totally revamping image search for Desktop.
Google has added visual image search attributes to search results. The interesting thing with this update is that these attributes are now available as image carousels within the most search results.
E-A-T
E-A-T (Expertise, Authoritativeness, Trustworthiness) are some things every SEO should know back to front, but remember:
E-A-T isn't a ranking factor
E-A-T is critical for Your Money/Your Life (YMYL) topics and pages
Although these two statements might sound contradictory, they create more sense once you consider what Google defines as YMYL.
According to Google's Rater Guidelines, YMYL is a page or topic that "could potentially impact a person's future happiness, health, financial stability, or safety." this means that if your page has information that would potentially change a person's life, it's considered YMYL and offering E-A-T is vital . If your site is simply your personal collection of cat pictures, then showcasing authority or expertise is less critical.
Topics and semantics over keywords
Google is putting less importance on both links and keywords, which is where topic modeling and semantics come into the conversation.
Google has become very clever at understanding what a user is looking for based on just a couple of basic words. This is thanks, in part, to topic modeling (as Google itself admitted in Sep 2018 when it introduced its "topic layer"). Indeed, this algorithm has a deep understanding of semantics and yearns to provide users with deep troves of data.
Studies have also shown that Google's crawlers choose pages with semantic groupings and sites that are designed around topic modeling.
That's a wrap!
The rules around SEO keep changing with every update Google rolls out, every technique that becomes outdated due to its ubiquity. SEO needs to move away from the ideology that links and traditional search results should be priorities for an organic campaign. Although both still carry weight, without investment in technical strategy/willingness to find out about entities or semantic connectivity, no SEO campaign can reach its full potential.