18 Jun

Top Reasons to Keep Investing In Digital Marketing during the COVID-19

A lot of countries around the world are currently under some form of lockdown due to the COVID-19 outbreak. The quarantine measures put in place to contain and control the disease has disrupted the free flow of people, goods and services. This, in turn, has sent shockwaves across the global economy and financial markets. Many business owners are now faced with the need to make tough decisions with regard to cost cuts. One of the areas that are presumably to experience spending cuts is marketing.

The coronavirus pandemic is occurring at a time when the internet is at the forefront of our daily lives and plays a pivotal role in connecting the entire globe.

People are still able to shop online, work remotely, obtain valuable data, run their businesses, attend classes and so on. Internet users still crave for reliable and authentic information on not just the latest world happenings, but also available products and services that are beneficial to them during the lockdown.

Thereby causing a massive surge in internet use and online media consumption. If you can take advantage of the present situation by improving your digital marketing efforts, then you stand an enormous chance of selling your products, prompting bookings for your services and generating revenue.

If you exercise restraint or cut down on your digital marketing efforts, then you're going to be at a loss. With more people at home on their laptops, tablets and mobile devices, now's the most effective time to engage them. This is often the best time to increase your online presence, gain exposure and grow your business.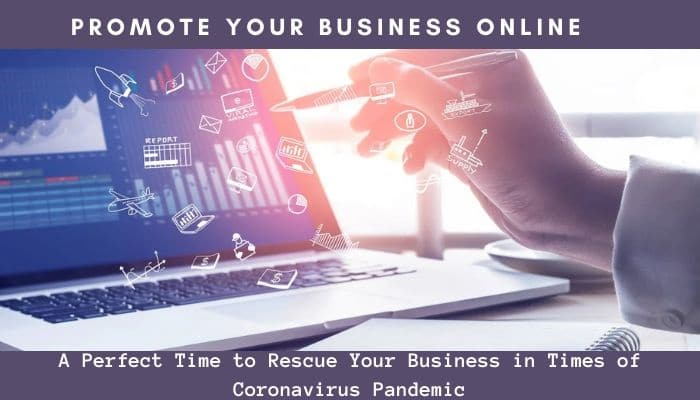 Ways of Online Marketing
There are lots of different ways that you can market your business online, it entirely depends on your business:
Target and Reach a Large Audience
An effective marketing medium is one that can generate large scale exposure for products and services. It is easier to make sales when more people know about your product or services.
Improving your digital marketing efforts gives you an attempt to target and reach a wider pool of potential customers.
There are various key phases in the process of using digital marketing to broaden your reach more than your service area. These include:
The use of analytical tools
Maximize social media presence
Improve your content marketing
Use Retargeting To Win Back Existing Customers
You cannot overlook your existing customers or past audience as they're crucial lifelines to your business.
As a matter of fact, it is easier to convince a previous customer than a new prospect. You have to reach out to your past customers, especially during a quarantine. This is because they're presumably to patronise a brand they have had an encounter with and trust in the ability of their products and services to satisfy their needs.
Digital retargeting can assist you to accomplish the task of reaching your past audience using a variety of communication channels. Each of these channels vary in their rate of transmission, cost, flexibility and effectiveness.
You should consider the nature of your audience before deciding on a specific channel to use. Your message should also be crafted in a manner that captivates your audience and in turn direct their attention to your offering.
Attract New Customers to your Business
Businesses of all sizes are always on the hunt for new customers as they're crucial to ensuring consistent sales. You can't always rely on repeat customers as their preferences and needs can change at any moment.
The unprecedented circumstances caused by the COVID-19 outbreak has resulted in a rise in demand for certain goods and services online. Since the need for self-isolation and social distancing has caused a shift in consumer behaviour.
With the varied forms of digital marketing, you can easily attract new potential customers. Depending on the medium you use, you can also track and measure your performance levels. This way you'll identify the most effective performing marketing campaigns and strike out the ineffective ones.
Even if your product or service is not in high demand at this point in time, the exposure will help to keep your brand in the thoughts and minds of potential prospects.
Your focus shouldn't only be on attracting and converting new customers but also on retaining them.
Increase ROI with Digital Marketing Channels
The end goal of your marketing efforts at a time when other businesses are making budget cuts is to receive high returns on your investment.
Digital Marketing allows you to cut costs, yet still generate the much-needed exposure for your brand.
The various low-cost digital marketing channels- like organic search, paid search, social media and email have the potential to cause an increase in revenue generation which equals profits. You can either choose to focus on one digital marketing channel or utilize a variety of different channels.
Dominate your Industry
When other businesses are cutting down on their marketing efforts, you would like to augment yours. It is only brands that are capable and also available to satisfy the requirements of consumers, which will become major players in their respective industry.
Brands that dominate their niche online are in a better position to compete favourably. Attaining the top spot requires the use of various online marketing mediums that puts your products and services at the forefront of your preferred audience.
It is not a simple feat to accomplish this task, neither is it impossible. Creating and implementing an efficient digital marketing strategy can help place your brand on target to achieving this goal.
Wrap up:
The online presence of people are going to be high at this time, and you should utilize this occasion effectively. It is important that you leverage the opportunity of the COVID-19 lockdown, by using the internet to increase your brand exposure. Improving and maintaining your brand's visibility online puts your products and services at the forefront of consumers who might need them. This way you'll still remain in business and grow despite the present circumstances.
At Rio Digital Agency, we have highly experienced team can offer you help and advice on your current marketing strategy and identify areas where improvements can be made.
If you're looking to grow your business during this challenging time, Reach out to us