30 Apr

Email & Phone remain the Big 2 Customer Communications Channels

Email marketing is an ever-evolving endeavor and just once you think you've gotten a handle on the best practices, things start to vary.

Wondering if your email marketing strategy is working? With around 269 billion emails sent every day, there's tons of competition for your audience's attention. Those email numbers keep rising, too. That's why it's essential to find out the way to do email marketing right, so you'll reach your target audience and keep their interest.

An email marketing strategy is a crucial part of any marketing strategy. Email is the best cost-effective way to promote your products, communicate with your customers and reach your business goals. Your strategy is a roadmap towards achieving your goals.

Email marketing beats all online marketing strategies, including SEO, PPC & content marketing.

The Econsultancy / Adestra 2019 Email Marketing Census confirms this, with 73% of company respondents ranking the channel as excellent, compared to 72% for SEO and 67% for paid search.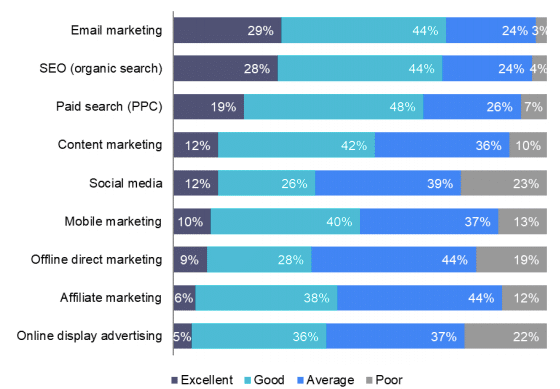 Email Marketing Stats That Prove Email Is Here to Stay
Why Should You Invest in Email Marketing
Regardless of the problems you may be experiencing with your email campaign, you stick with it. Here are some statistics to boost your email strategy:
To get amazing results with your campaigns, you need to keep your finger on the industry pulse. Below are the top trends and predictions you need to understand about for email marketing.
User-Generated Content
User-generated content is another trend already hot on social media that we predict will increasingly make its way into email marketing this year. User-generated content is one among the foremost powerful forms of social proof. When users see content such as images, videos and reviews created by real, happy customers of your business, it encourages them to become customers themselves.
Not only should you share user-generated content in your email marketing messages, but you should use your email marketing to gather user-generated content also. In your emails, you can leverage interactive content elements such as polls, thumbs-up or thumbs-down buttons, and more to gather user-generated content from your email list.
Interactivity Email Elements Drives Engagement
Interactive emails include elements that your subscribers can click on or interact with in some way. They seem to be a great way to surprise and delight readers and make your emails stand out in crowded inboxes.
You can create interactive emails by adding:
Surveys and polls
Menus and accordion features
Add-to-calendar options
Animated calls to action and buttons
Gamified features like scratch-it's to reveal discounts
Instead of just reading or scanning your emails, users will have things to click on, which can skyrocket engagement.
How AI-Based Email Marketing Can Increase ROI
AI is used in email marketing to find the most relevant content for current and future customers and also to ensure that the content reaches the targets at the most suitable time. AI systems work because they use past behaviors to predict future actions.
With the right use of AI in email marketing, you can replace the time-consuming campaign management systems while also delivering highly relevant content to your consumers. This is because AI-infused marketing can unearth more data and ensure enhanced cross-channel optimization. When your email segmentation is smarter, you will enjoy better customization, accessibility, and overall performance.
The use of AI also means email marketing platforms are now more capable of supporting quality multivariate and A/B testing.
Quality Wins over Quantity
Email marketing is all about hitting the right spots with your marketing messages while using the fewest words possible. As the focus on accessibility and mobile-friendliness intensifies, clear designs and concise copy in all email content are now more important than ever.
More brands are increasing their copywriting and design budgets to reflect this new trend. If you do not have the budget, however, focus on simplifying your content first to enhance your chances of reaping the complete benefits of email marketing.
Use Storytelling to Strengthen your Brand
One of the foremost powerful trends in email marketing today is the use of relevant content and maintaining a focus on the customer journey with every campaign.
With quality brand stories and authentic content, your business can connect better with your audience. This will allow you to boost your relationship with them and ultimately boost engagement. Customers want to connect with your company on a personal level.
You need to avoid content that sounds generic or robotic and embrace conversational content that incorporates everyday experiences. This way, your customer will not feel like they're just another unknown user that has received a mass-blasted email but instead, attach more value to the content they read.
Our Conclusion
As technological innovation continues to improve, marketers have to embrace changes actively and tweak campaign strategies to reflect new realities. It's paramount for both B2B and B2C enterprises to remain on top of their email marketing game heading into the next decade. One thing is clear: email marketing is here to stay.